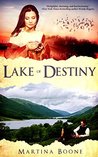 Lake of Destiny by Martina Boone
My rating: 4 of 5 stars
Publisher: Mayfair Publishing
Series: Celtic Legends, Book #1
Release Date: April 25, 2017
Category: Romance, Highlands
Author Website: http://www.martinaboone.com/
This first book in Martina Boone's new Celtic Legends series doesn't disappoint with cute Highland men wearing kilts, overly friendly dogs making mischief, and two singles so caught up in the organization of a traditional Highland festival that they can't seem to find time to fall in love.
Yet we know going into this sweet romance from Mayfair Publishing that there will be love by the end of the book. It's not the destination that we're concerned with here but rather the journey from being lonely to being in love.
What helps the story is that you immediately like Anna, the heroine. And who can't fall instantly in love with a devastatingly handsome former blockbuster movie star now widower who puts the care and comfort of his only daughter above his own needs. It seems like an instant match to me.
However, what throws off the story for me is the convoluted backstories of both our heroine and hero. There are repeated tellings – and I mean *repeated* – of Anna's story. We can piece together what has driven Anna to the Highlands: (1) a strained relationship between Anna and her mother, because of Anna's participation in childhood beauty pageants; (2) Anna's strained relationship with her sister, Katherine, who took something of Anna's (3) Anna's human error at her former law firm that caused her to leave D.C. We understand what molded Anna into the person she is at the beginning and end of her story. She grows during this story. I LOVE when a heroine grows during the story. We have a climax and resolution for her first backstory; which I think is why I liked Anna so much. I understood her growth during the story. But resolution for the other two are rather half hearted and really felt like they could be cut out If they aren't worth a proper resolution.
I feel the same about Connal's backstory. While we hear repeated pieces of his background story I get lost in the different versions of Connal as he keeps reinventing himself to present to the outside world. Each with it's own name. I never feel like I really connected to who Connal is on the inside. I don't believe his background story was told with the same conviction with which Anna's story was told. Therefore I felt like we missed something when the ending came and it was a happily ever after for Connal but I still had open wounds for him that hadn't yet healed.
That being said, this is truly a sweet romance that I had the pleasure to read. Boone has a wonderful turn of a phrase and has mastered the art of description. I shall never be able travel to the Highlands myself, but I do believe that for a few hours Boone had transported me there. I will remember the experience fondly in my dreams. Clearly Boone has mastered storytelling, so I'm writing off any missing holes in Connal's story as the price we pay in today's cutthroat publishing world with an eye on page count and costs. Given an unlimited canvas to write on I'm convinced Boone would have presented us with a masterful backstory and growth for Connal. I can't wait to read the next book in the series and continue my relation with the inhabitants of Boone's Highland.
I received a free copy but voluntarily reviewed.
Other books in this series:
Bell of Eternity (Book #2)