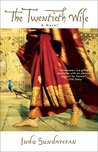 The Twentieth Wife by Indu Sundaresan
My rating: 5 of 5 stars
I love books that transport me back in time. Add in an exotic foreign land and I'm hooked. The Twentieth Wife (The Taj Mahal Trilogy, Book One) enchanted me from the first page. This book is an interesting education about the power of love.
Women still have a long way to go yet to achieving full equality with men. However, it would be too easy to look at The Twentieth Wife as only an example of our historic inequality. I hope perceptive readers will see that there is so much more in this history of how one woman loved one man.
For example, it also shows us that there is more than one way to achieve power. Even in the 16th century a few women played a critical role in foreign-policy, world economics, and how to run a country. They should be remembered as our heroes. For it is with their history that we learned that women have always been strong enough to achieve their goals. Certainly, history will remember Mehrunnisa for her beauty. However, Indu Sundaresan has shown us that this classically graceful woman was strong in her values, her love for one man, and her ambitions.
I'm looking forward to reading the other two books in this trilogy as Sundaresan is an amazing storyteller. She brings historical figures alive as well as their culture. While my circumstances prevent me from traveling to India, Sundaresan successfully transported me there and gave me a look into the country's history unlike any other tour guide could.
The other Taj Mahal Trilogy books are:
– The Feast of Roses, Book Two
– Shadow Princess, Book Three